In this guide, you learn the 3 simple steps on how to set up and log in to eMarketeer using Multi-Factor Login (MFA) with an authentication app. If you want to learn more about MFA, visit this article.
Download authentication app
Before you get started, download an authentication app to your mobile device, if you don't have one already. We recommend the apps Google Authenticator or Twilio Authy. Click one of the links below or search for them in your app store.
Google Authenticator
Twilio Authy 2-Factor Authentication
Set up MFA
Follow these quick steps after you or your admin has enabled MFA on your account. (You can set it up on your own login if you in eMarketeer go to Settings -> Edit my profile -> click the toggle bar for MFA.)
1. Go to the eMarketeer login page
Type in your username and password. If you or your account admin has requested MFA, you see a button that says "Activate MFA". Click that button.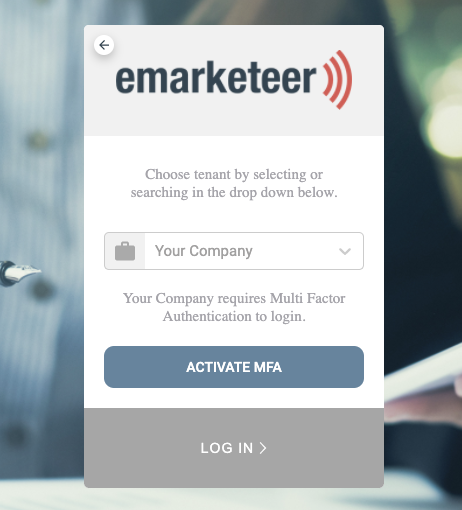 2. Set up the app
You now see a QR code on the screen. Open the authenticator app on your mobile phone and click "Scan QR code" in the app. Use the app to scan the QR code on your computer screen. When you have scanned the QR code with your mobile app, a six-digit code appears in your app. Type this code on the computer screen and click "Continue".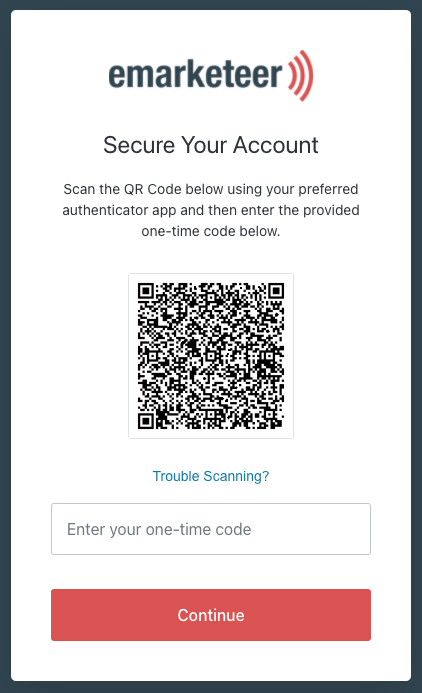 3. Save recovery code
You are now authenticated, but before you can proceed, you are presented with a recovery code. This code is your "back-up," if you for some reason don't have your phone with the authenticator app. Then you would use this code to log in. Save this code and keep it in a secure place. Once you have done this, check the checkbox to confirm that you saved it and click to "Continue".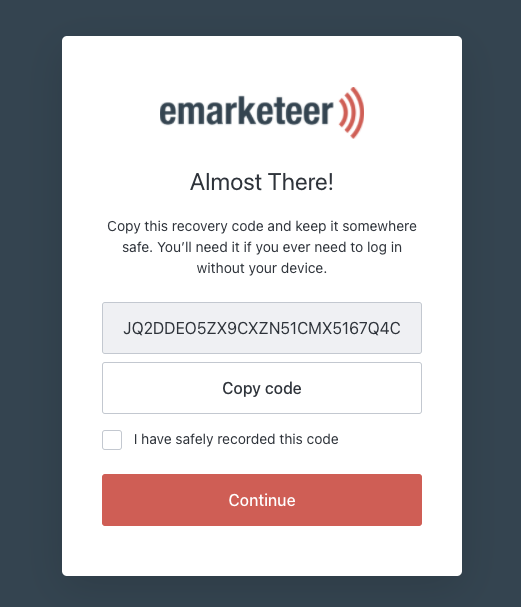 Now you are all done!
Next time you log in to eMarketeer
The next time you log in to eMarketeer, you see a message saying "Verify your identity". This is when you open your authentication app, take the six-digit code you see in the app, and type it into the login screen. If you check the checkbox, eMarketeer remembers your identity on this device for 30 days and you don't have to use the authenticator app every time.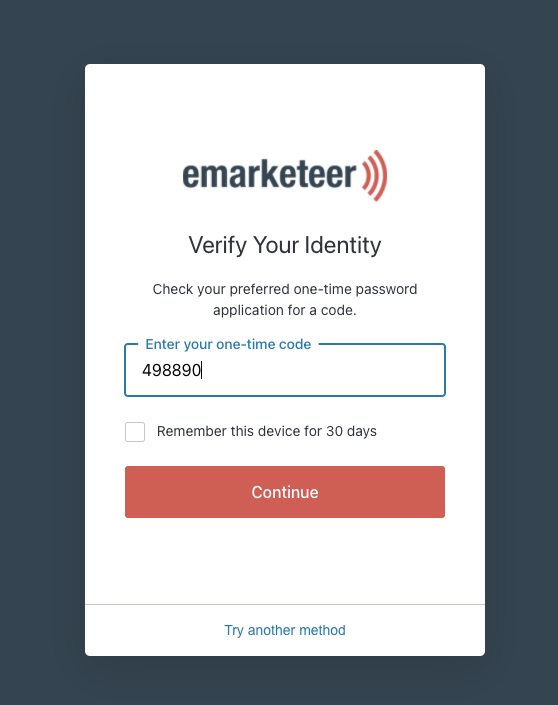 Now you're all good to go! Should you have any problems logging in, please contact support by using the chat box on the login-page.