General Information
Embed Video/Media is available in the Page Builder (E-mail and Webpages) and allows you to embed video, slides and more from hundreds of external services.

eMarketeer takes the media from the service (e.g. youtube and others) and places the media into your eMarketeer content.
How do I add video and media?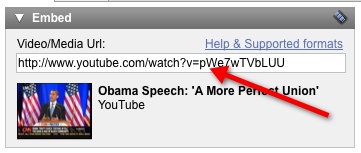 Add a block to your page with Video/Media in it and double-click to edit. The above dialog appears. To add your media, just paste the URL into the text box. (e.g. https://www.youtube.com/watch?v=joZYslz753I)
Once pasted, you will se a preview of the media below the text box. Click 'Save' to add the chosen media.
If the content is not updated in the block, you clicked 'Save' too quickly before everything could be completely fetched.
Will this work in E-mails?
The majority of e-mails don't support video objects in the content. However, they support images. If you add video/media to an e-mail in eMarketeer, we will add an image with a screenshot of your video instead. We put a play-button on the image and link it to the original URL you entered. This way the recipient gets the illusion of video on the e-mail, and when clicking 'Play' he/she will watch the video in his/hers web browser instead.
Video/Media and the page editor
When you are editing your page/e-mail and adds a video/media block, we will show a preview of the video/media only. However once you look at the page outside the editor (publish, send or preview) the actual embedded player will show.
Supported media formats
The embed feature supports the majority of online 'rich content' providers and the list is constantly growing. It supports videos, image galleries, presentations, audio etc.
A selection of the supported serviced we can embed are: YouTube, Vimeo, SlideRocket, Slideshare, Flickr, Google Maps and alot more. View a full list of supported formats here.