eMarketeer is in full steam ahead to develop and improve existing features to be GDPR compliant. For you, as an eMarketeer user, this video presentation will give you the details on what the eMarketeer GDPR roadmap looks like and what new features you can expect before GDPR is in full effect on May 25th. 
The General Data Protection Regulation (GDPR) is the new law that, in short, give ownership and control of data back to the EU citizens. This means that the people of the EU have the right to be forgotten, have access and have the data stored in a secure fashion, among other things. Of course, this means that data processors (you) and data controllers (eMarketeer) needs to finetune and perhaps alter our processes in order to be GDPR compliant.
Video Presentation Breakdown:
0:46 GDPR overview and key concepts
6:13 Consent Management and concept
7:44 Feature overview
17:10 eMarketeer's GDPR Roadmap
19:51 Releases and recommendations for you
To help you reach GDPR compliance, some of the new features include:
Consent management: each contact needs a purpose (why are you storing this data), a legal base (by what right can you store this data) and a source (where did the data come from). This will be possible to manage in eMarketeer.
Subscription categories: where a contact can choose themselves what information they want to receive.
New automations: for example ability to update consent and subscription categories.
All GDPR features are planned to be released in three phases, where each phase includes two releases. In the image below, you'll see an overview of what each release includes.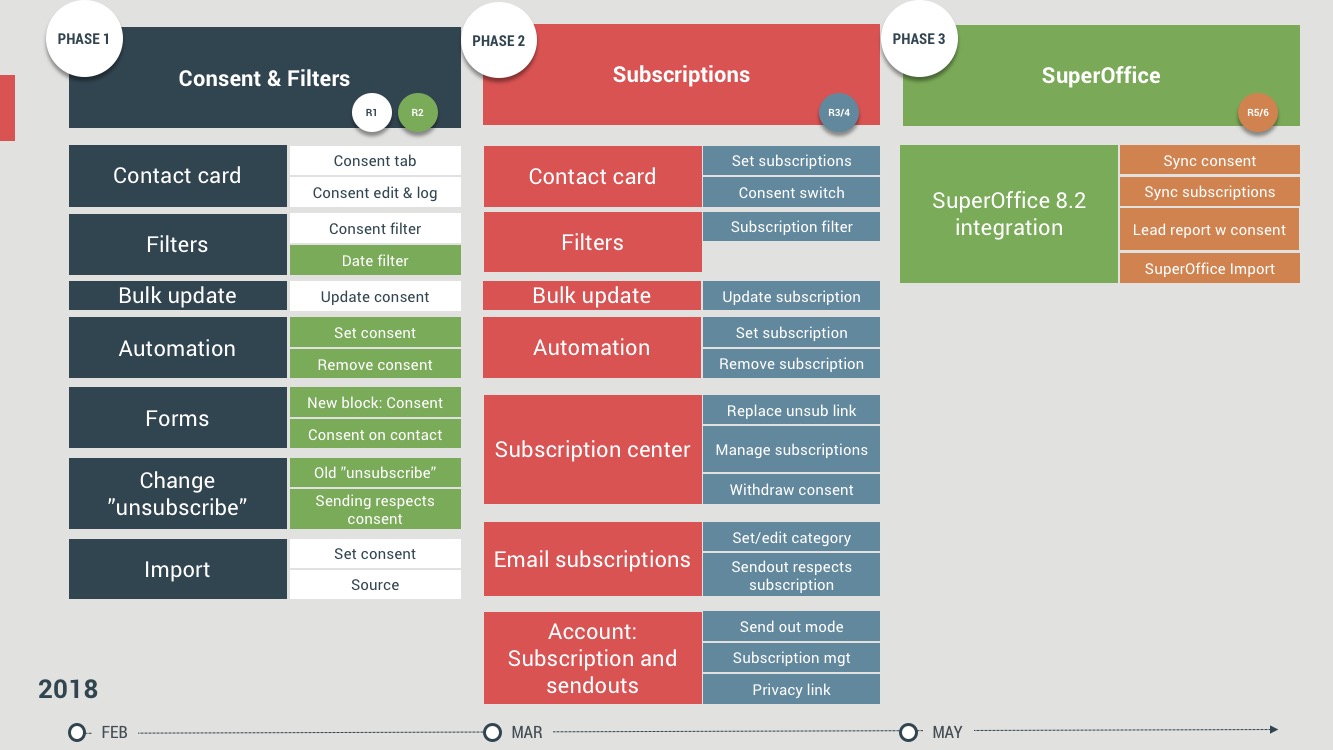 For more information, visit the eMarketeer GDPR Center or download our GDPR guide for the quick facts.
If you have any more questions on GDPR, shoot us an email to support@emarketeer.com.